List of products by brand Korii Joko International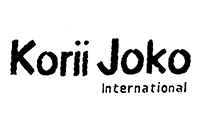 Korii Joko is unclassifiable, halfway between a sophisticated style, a new wave side and the DC burando (Comme des Garçons, Yohji and others). She interprets her time in the 80s and 90s in a very unique way. Her clothes are recognizable at first glance. She is often considered to belong, in her own way, to the Japanese avant-garde. She sculpts the female form with concentric circles or adorns it with geometric shapes, enhanced by sought-after materials and transparencies, with which she likes to play. Macrame, embroidery, cordage, lace, organza, silk, texture, yokes, embellishments (beads and other stones), overlays, laser cutouts or sewn finishes, or exaggerated volumes (especially on the shoulders, welcome to the 80s), anything goes. It's so 80's and at the same time so modern. This niche house was mainly aimed at the Western market, from New York to London, via Milan, Paris and Amsterdam, which is why the label proudly bears the inscription "Korii Joko International".
She more or less disappeared from the face of the fashion world, but in the late 2000s, she launched a line of accessories and jewelry, made of semi-precious stones, Swarovski crystals, pearls and pearls. freshwater or various types of corals. Gaijin Paris loves it! Too bad his talent could not be expressed longer.
No products for this brand.