List of products by brand EDWIN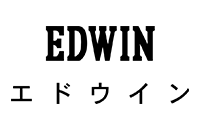 The company was founded in 1947 by Mr. Tsumeni Yonehachi, who began by importing second-hand jeans from the United States to wash, repair and sell them second-hand.
The house is known in particular for its Japanese "selvedge" fabrics, produced on small weaving looms, called shuttle looms (90 cm instead of 150 cm in the majority of the world industry), which require make unique, for a result of greater robustness, thanks to a skilful mixture of cotton threads too, which give irregularities. The weaving is much tighter, the weight higher. Productivity is much lower. Its uniform finish is reinforced at the edges to prevent them from fraying or the canvas from warping or breaking. The jeans then often have colored edging on the inside, a guarantee of quality.
Japan did not develop selvedge fabrics until 1951. But, expensive and not yet at the level of American denim fabrics, they did not yet compete with them. Mr. Tsunemi also tried to import new jeans from the U.S. at the end of the 1950s, but the fabrics, much stiffer than those already worn, and likely to shrink in the wash, failed to convince Japanese customers. Thus, Mr. Tsunemi decided to create his own denim fabric, trying to improve the cut, the washes and the quality.
In 1961, the first genuine Japanese EDWIN jeans were born. A simple name, which uses the letters of the word "denim" by mixing them and reversing the M, which becomes W.
As early as 1963, Edwin made its nest with a flattering title: one of his jeans - still present in the offer today - is considered the strongest in the world, with a thick and heavy canvas of 16 oz. , thanks to the "Ring-Spun" weave.
Always in search of innovation, Edwin invented washes that are still essential today: In the 1970s, the "Old Wash" washing technique was born, reproducing the appearance of jeans already worn, which people loved. Then, during the 1980s, "stone washing" (washing with pumice stone) was a great success and was copied by all denim brands (the latter is also claimed by Marithé François Girbaud, the mystery remains... ).
Another great invention to note: the concept of "new vintage" (90s), which consists in reproducing in an artisanal way the most beautiful washes from the archives of second-hand jeans, accumulated since the beginning of 1947. Thus, Edwin has become the successful brand it is today, with a sharp and premium positioning, a perpetual search in terms of style and innovation, without losing sight of its roots and its authenticity, its admired know-how, everything by offering jeans at attractive prices.
No products for this brand.