List of products by brand Y-3 Yohji Yamamoto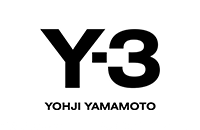 A hyphen between the brand with the 3 stripes and the world of Yohji Yamamoto. Y-3 has been a cult sportswear and more generally fashion brand since 2001. It was born when the Japanese designer asked adidas to lend him sneakers for his fall-winter collection, the brand being very exposed in Japan. The brand accepted and even offered to imagine with her what the sportswear of the future might look like. Since then, Yohji Yamamoto has been developing his very particular silhouettes, his pronounced taste for black and volumes, but also bright colors, placed on refined materials from hi-tech. Avant-garde, the brand uses materials such as neoprene and specific shapes, multiplies surprising and innovative fashion shows and advertising campaigns, skilfully mixes sport and poetry.
To learn more about Yohji Yamamoto, click here.
No products for this brand.