List of products by brand TSUMORI CHISATO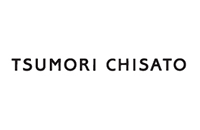 After having designed for Issey Miyake, the designer Tsumori Chisato founded her own eponymous house, which revolves around a playful and imaginative style, both pop and poetic. Energy, colors, kitsch patterns, sometimes childish, a skilful use of accessories, from beads to embroidery, to dress these feminine creations. She is a real "weaver of dreams" (cit. Vogue).
TSUMORI CHISATO

190,00 €

1 In Stock

CRÉATEUR • Pull gorille sur le thème « jungle d'hiver ». Genre : femme Taille européenne : S Mesures* : Largeur : 48 cmLongueur : 45 cmManches : 70 cm Couleur : , noir, beige, jaune, gris État : Très bon Marque : TSUMORI CHISATO (JP) | FW 2014-2015 Composition : 48% nylon, 27% rayonne, 25% laine Détails : Fabriqué au Japon * Voir le Guide des Tailles...